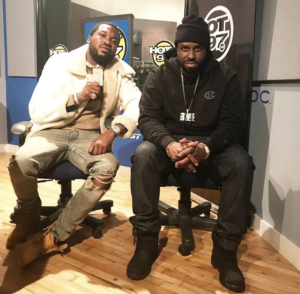 Fresh off his most recent album release, with an incredible amount of momentum behind him, Meek Mill stopped by to spit with Funk Flex. Championships is Meek's first project since being locked up on a probation violation related to charges he caught almost ten years ago. The album has been received very well among fans and peers, but of course, he had more bars in him for Flex!
Meek decided to start off #Freestyle118 by going in over "Back To Back", which was one of the tracks released by Drake at the peak of both artists going back and fourth at each other in the summer of 2015. Meek Mill and Drake recently squashed the beef when Drizzy brought him out at a tour stop in Philly and the two also reunited for the new album on "Going Bad". In the past Meek said he used the song as inspiration and in this freestyle he said he always wanted a piece of this one and he really went in!
Flex might've hinted at a potential #FunkFlexFacebookMessenger collaboration with Meek as well. This would follow the current Funk Flex collaboration with A-Boogie Wit Da Hoodie, where an artist in the top three of the artist leaderboard can win a feature of A-Boogie's choice. So keep an eye out!
"…everything mafia. Salmon over lobster, we don't even eat tilapia. I done got boujee more confident and cockier. Since I got some money, hoes suck that d*ck sloppier." – Meek Mill