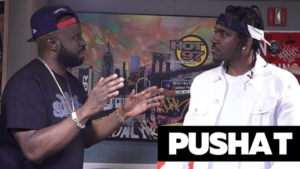 Pusha T stopped by the Hot97 studio to break down the history and reasoning behind the exchanges between him and Drake. The G.O.O.D Music President sat down with Flex to clear the air in regards to some of the shots the two lyricists took at each other.
If somehow you missed it all…Pusha dropped his third studio album Daytona on May 25, 2018. It closed with two noteworthy tracks, "What Would Meek Do" and "Infrared", the former which acted as a sort of prelude and featured Kanye West. Of course, it implied that Pusha, like Meek Mill did in recent memory, had something to say to Drake.
"Infrared" took multiple shots at him including the implication that he doesn't write his own bars. Drake responded quickly with "Duppy Freestyle" in which he name dropped Pusha's fiancé and took some shots at both him and Kanye. After a short wait, we heard a response to Drakes response and it was done over "The Story Of OJ"-originally a Jay-z track. It revealed some things about Drake that most people were unaware of, the big bomb being that he has a son, named Adonis, with an adult film star.
To hear about the beef and much more, watch the interview at the link below.