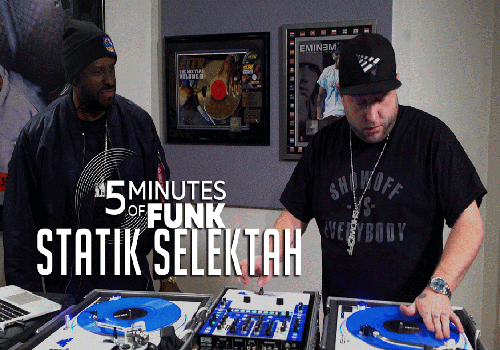 IF from the title you're wondering if this will be a series giving DJ's the spotlight to do what they do best, and from the 001 it will include a multitude, the same as the #FlexFreestyles series…you'd be correct. Statik Selektah, one of the nicest Dj/Mixers/turntablist/Producers out here, came through on 001 to let you really see.
Tat Wza IG | Twitter | Snapchat(Snapcode; Screenshot and ADD)
We're only trying to actually and truly give back to the culture, like the real and true culture that this whole thing was built on. If you've been paying attention, Hip Hop was pushed forward through the DJ, they controlled the crowd, they provided how and when the MC was birthed. I'm not even gonna hold you, you go 5 Minutes today cuz;
You saw the tid bits on Statik throughout the piece, but just in case, here's the info;
– Where are you from:
Brooklyn via New England
– Where did you get your DJ name:
Was dj statik but wanted to change it and a reggae artist added the Selektah my first time djing in NYC.
– Who was/is your inspiration as a DJ:
Flex, dj premier, kid capri, Qbert
– First exposed to the craft when:
Yo! mtv raps. 8 years old.
– When did you start as a DJ:
November 1995
– First record you bought and in what format?
12″ of Pharcyde Passin me by
– Last time you carried a crates:
Houston last year
– Who have you carried crates for:
Chubby chub, kid capri , Clinton sparks
– Best place in the world to DJ is:
Japan, Croatia
– Biggest misconception about a DJ is:
that they can all scratch. They can't
– Favorite song to play at a party:
Juicy Fruit by Mtume/ Biggie
– You can DJ for anyones party
dead or alive, that person is:
Jay-Z
– First time you bombed:
2003, Boston. Drank too much at 50 cent release party lol
– First time you rocked:
School dance, 1996
– Toughest crowd to impress (doesn't have to be a city, could be situation or event type):
NYC stuck up rich people/ corporate crowd only there for free drinks