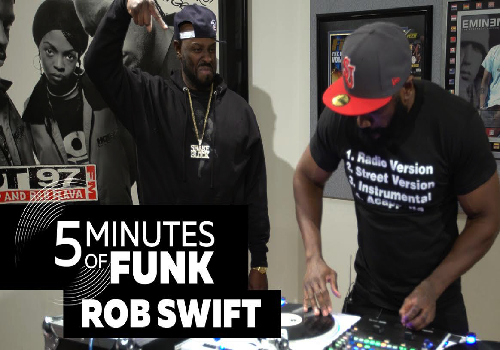 #5MinutesOfFunk005 The fifth installment of the DJ spotlight series is a treat for the Turntablist… None other than Rob Swift from the X-Ecutioners!!
Tat Wza IG | Twitter | Snapchat(Snapcode; Screenshot and ADD)
I'm talking legendary if you don't know the X-Ecutioners, also known as the X-Men, but Rob is also a former DMC east coast champ, again if you don't know, DMC is where the DJ's used to go to see whom was the best turnrtablist in the land!! Rob is pretty NICE with his ?, but don't take my word for it, see for your self;
1. Where is the DJ from: Jackson Heights, Queens.
2. Where did you get your DJ name: A friend gave me the name "Swift". I wanted people to know my real name so added Rob.
3. Who was/is your inspiration as a DJ: My mentor, Dr. Butcher, is my most significant influence.
4. First exposed to the craft: My father was a DJ and first exposed me to the craft as an adolescent.
5. When did you start as a DJ: I was 12 years old when my older brother started training me.
6. First record you bought and in what format: "Roxanne Roxanne" (UTFO) 12″
7. Last time you carried crates: Last time I carried crates was 1996 for a party in Brooklyn.
8. Who have you carried crates for: My dad.
9. Best place in the world to DJ: New York City
10. Biggest misconception about a DJ: if you own Serato you can DJ.
11. Favorite song to play at a party: "Shook Ones" (Mobb Deep)
12. Favorite fall back song: "Back To Life" (Soul II Soul)
13. You can DJ for anyone's party dead or alive that person is: Prince
14. First time you bombed: It was with the X-Ecutioners in Lincoln, Nebraska as the opening act for Linkin Park.
15. First time you rocked: The 1992 East Coast DMC. I fuckin' won!
16. Toughest crowd to impress: When you're adaptable as a DJ no crowd is beyond impressing.