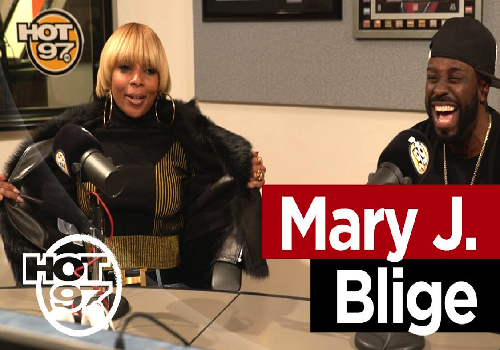 Bruh, Mary J was in the building with her fine a**, big hoop earrings and all…. she hasn't been here in a while, so her and Flex had a good bit to catch up on, everything from recently going through a divorce, the making of her latest album, working with Kanye West for the first time, Helping The Lox get signed(Styles P gov name), Who Shot Ya being her beat first, Faith Evens being Positioned as the next Mary J(way back), Her past relationship with K-Ci from Jodeci, & wanting to be on Bad Boy when it started!
Tat Wza IG | Twitter | Snapchat(Snapcode; Screenshot and ADD)
-Working with Kanye; Which type of Kanye did she get…. it's interesting how even Mary J see's there are diff Kanye's to deal with.
-Her Marriage; How she gave her ex too much power while letting wanting him to feel comfortable in the relationship;
'I wanted you to feel like the king I think you are'
Mary listed the exact reasons the relationship didn't last, homie took advantage, Mary feels that he felt she wasn't enough, wasn't pretty enough, not smart enough, records weren't hot enough, basically felt like he was attacking her….. and really because he had someone else in the picture, he became negative, too familiar, don't take things for granted!!!
You have not gotten the best of me, you have brought the best out of me
From what I'm hearing, her Ex, Kendu is lucky he didn't get shot!!
Look, Super Dope interview, but as the writer of this post, and having produced the segment, besides ingesting all of this information, I got something diff out of it….. I got a pic with Mary, and I was so hype, I had a goofy look on my face… like I look like I'm trying to creep into her DM's ??